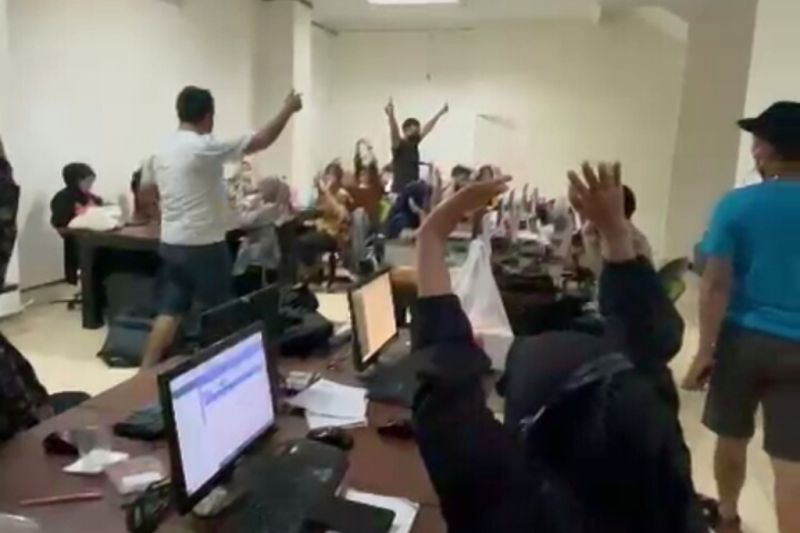 How illegal online businesses trap young people looking for work
"All hands in the air!" Shouted disguised police officers as they raided a room containing several workers in a three-story building in Sleman District, Yogyakarta Special Region.
The workers were all young in batik.
Hearing the orders from the police, they immediately raised their hands in front of their computer screens. At first, they feigned innocence, officials said.
The reason they got embroiled in a police raid was because they worked for an illegal online loan service, which often threatened borrowers with non-payment of dues.
One of the still-lit computer screens showed a threatening note that was about to be sent to victims before the raid. The note warned the borrower that if the debt was not repaid immediately, the borrower's photos and personal details would go viral on social media and he would be tagged "The King of Debt."
Video of the raid was documented by a joint West Java Police and Yogyakarta Police team on Professor Herman Yohanes Street, Caturtunggal, Sleman District on Thursday evening (October 14, 2021).
A total of 86 people, including operators, debt collectors, human resources staff and managers, were arrested in the raid. They were handed over to West Java Police the next morning with evidence.
Of the 86 people examined, 79 were invited to return to their homes in Yogyakarta. The remaining 7 people who worked as deputy directors, team leaders, human resources staff and debt collectors remained under review.
Finally, on Saturday, the West Java Police Special Criminal Investigations Directorate announced the name of the suspect in the illegal online loan case and it was revealed that the suspect was operating in Yogyakarta.
Related news: West Jakarta speeds up dissemination of information on illegal lending
For the case, the police applied article 48 the junction Article 32 paragraph 2 and / or article 45 the junction Article 29 of Law No. 19 of 2016 on Information and Electronic Transactions (ITE) amending Law No. 11 of 2008 on ITE and Article 62, paragraph 1 the junction Article 8, paragraph 1, of the Consumer Protection Act No. 8 of 1999.
Police officers also carried out similar raids in other areas, such as Tangerang, Banten, North Jakarta and West Jakarta.
The raids intensified after President Joko Widodo pointed out that illegal online lending was very threatening to the community amid the COVID-19 pandemic.
At the recent Financial Services Authority (OJK) Virtual Innovation Day, the President said he could perceive the turmoil of the lower class community who had been tricked and tricked into paying high interest by illegal online lenders.
Widodo's remarks correspond to a report received by West Java Police from a victim, identified as TM, who allegedly received threats from an illegal loan company.
As a result of these continued threats, TM reportedly suffered from depression and was rushed to hospital.
In early October, a housewife identified as WPS (38), from Selomarto village, Wonogiri district, reportedly committed suicide after online loans resulted in high debt levels. She was also reportedly upset by threats from debt collectors.
Young people behind illegal online lending
Debt collectors for illegal online lenders turned out to be still young, on average, Yogyakarta Police Public Relations Chief Senior Commissioner Yulianto said.
Related News: Beware of Illegal Online Lending Services
The employees recruited were residents of the special region of Yogyakarta. Some came from Sumatra, Sulawesi, Kalimantan and parts of eastern Indonesia, he said.
They registered as debt collectors on the basis of jobs offered by the illegal company, he said.
Some had worked from two days to a month with wages based on the minimum wage in Yogyakarta, he said, adding that their wages started at 2.1 million rupees. Ironically, some of them had not even received a salary, he said.
On the night of the raid, Suga Pradana, one of the friends of an illegal loan employee, was at the scene. He told police he had come to pick up his friend, identified as RP.
RP said he would finish the job at 7 p.m. WIB (Western Indonesian Standards Time), Pradana said. However, until 9 p.m. WIB he had not shown up, he added.
Pradana said he didn't expect the business his friend worked at for a day to be an illegal loan service.
He said RP told him a different story. RP had said he worked as a call center manager for a legal firm providing financing for motor vehicles and cell phones, he said.
According to him, RP said he never applied to work for the company. However, he suddenly received a call for an interview, he said. Without thinking, RP accepted the job as he had just graduated from college and didn't want to lose such an opportunity, Pradana added.
In addition, RP reportedly told Pradana that he had to collect a debt worth Rs 10million from customers within one day.
RP had two cell phones with new SIM cards, Pradana said. One of them was to threaten the victims, officials said.
Soeprapto, a criminal sociologist at Gadjah Mada University (UGM), said he hopes the community doesn't marginalize employees of illegal lenders. Some of them fell victim because they were unaware of the working process and the legality of the company, he said.
Soeprapto said he interviewed 7 debt collectors aged 25 to 35 in Yogyakarta for research purposes. Two of them worked in illegal companies, he said.
Based on three years of research, he concluded that there are three factors that force the productive young generation to find themselves trapped in illegal jobs.
First, they see the job as just a stepping stone before getting the main job, especially since the selection process is not complicated, he said.
Related News: AFPI Supports Police Crackdown Against Illegal Online Lenders
Second, they don't verify the legality of the company when they apply, and the third concerns the few job opportunities during the COVID-19 pandemic, he explained.
Not all illegal lenders are comfortable with billing methods that force them to use abusive language, he said.
They feel compelled to go through the work process and are brainwashed by the leader of the company, he added.
The leader of the company instills the mindset that collecting debts requires issuing threats and intimidation is nothing more than a means of disciplining or deterring non-payment of loans , said Soeprapto.
Nonetheless, one of the employees interviewed chose not to obey the bullying method and instead be polite, he recalls. This employee opted to ask the borrower for help and revealed that he would be under pressure if he did not get the payment, he said.
Illegal online loan companies have continued to flourish as more and more people want to borrow money instantly, and the process is very simple – they just provide their ID card information and cell phone number. personal and the money is instantly transferred to the borrower's bank account, he added. .
Need caution
Although employment opportunities are currently limited, the younger generation needs to show greater awareness when choosing jobs, officials said.
According to Elly Supriyanti, Head of Placement and Expansion of the Yogyakarta Labor and Transmigration Office, job seekers need to know the profile of a company as well as the rights and obligations it offers.
In addition to the legality of the business, they must also scrutinize the employment contract carefully, she said. They must also check whether or not wages and working hours comply with regulations, she added.
Related News: House Speaker Supports Police Crackdown Against Illegal Online Lenders
Supriyanti advised job seekers to approach the office directly, both at the provincial and district levels. Every job posting from a legal company is recorded by the office, she said.
Reflecting on the raid, the scourge of illegal online lending must be judged from two sides.
Illegal online lending entities should be eradicated and the younger generation should be encouraged to obtain more information while seeking employment.