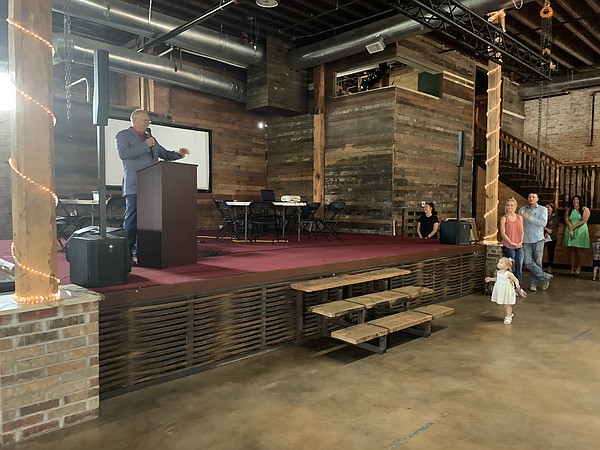 Mayor Allen Brown announces he is running for a second term
TEXARKANA, Ark. — Mayor Allen Brown has announced his upcoming candidacy for a second term.
Brown made his announcement with his wife, three sons and their families Tuesday night at the Crossties event venue in downtown Texarkana.
"My intention is to file again in July," Brown said. "I will be the first person at City Hall on July 26 to file for mayor. I wouldn't do it without all the support from you guys and you being here tonight and the support of city staff. that I had to try to make our city a better place."
In addition to being the current mayor, Brown also serves on the Economic Development Council of the Texarkana Chamber of Commerce. Brown was previously a member of the Texarkana Arkansas Planning Commission and the Texarkana Arkansas Board of Adjustment.
In the past, Brown served as president of the Texarkana Noon Kiwanis Club, co-chaired a United Way of Greater Texarkana campaign with his wife Shelby Nottingham Brown, and received the David Pryor Volunteer of the Year Award from Opportunities, Inc. .
Brown's career includes upward momentum during an ongoing career with Mil-Way Federal Credit Union, beginning as a loan officer to currently becoming the company's CEO. Brown has been a member of the credit union for over 32 years.
In 2016, the University of Arkansas at Fayetteville recognized Brown as one of the longest serving Area Razorback club presidents for having more than 30 years of service. In the past, he has contributed to the Texarkana Arkansas Independent School District by serving as the Texarkana Razorback Athletic Foundation, and he is currently President of Agent Barry LIVE UNITED BOWL.
Brown shares three adult sons with his wife Shelby Nottingham Brown and four grandchildren. All three sons, along with Brown's stepdaughter, Megan, attended Arkansas High School and reside in Texarkana, Arkansas.
"I'm proud of him," said the mayor's father, Jerry Brown. "He was always the head of the family."